Katrina Halili bares?
Monday, January 02, 2006
ADVERTISEMENTS


Captain's Log Stardate -317004.47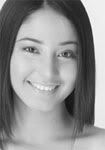 What a new year blast it is for Katrina Halili... First she posed almost nude for FHM's calendar for 2006. Now a nude picture, allegedly her, is circulating on some of the pinoy's active message board. Here's a comparison I made between her FHM picture and the picture being circulated on the internet.



Click image above for larger view

Kids these days really are wild. Katrina's barely 20 yrs old and if this picture is true... oh well... wild.

Related Blog Entry:
Liposuction, Photoshop Style
Kids these days...

*Computer end log*

Posted by Jepoy @ 1/02/2006 03:13:00 PM
Post a comment! | Email This Story!
5 comments | | View blog reactions
Love my blog? Then subscribe by entering your email address below. You will receive blog updates directly to your inbox.