Why Piracy Sells
Thursday, January 05, 2006
ADVERTISEMENTS


Captain's Log Supplemental Stardate -317013.68




Ever heard the Chinese philosophy that selling items at lower prices is better than selling them at higher rates? Sure you'll have smaller profits, but chances of selling all of your items would be higher since you're almost giving them away. Walang lugi! That philosophy is somewhat similar to digital piracy. They're of almost the same quality but 99% cheaper.

I was browsing some backup photos from Lalaine's phone when I stumble upon our Enteng Kabisote's movie ticket last 2004. It's priced at P76.00 and as fas as I can remember, we stood up the whole movie since SM Cinema's are like flea markets. No seat numbers. Pasok lang ng pasok! And SM North EDSA's Cinemas are the only SM movie house in Metro Manila I've known to have cockroaches! The entire cinema also smells like MMDA's urinals. Maybe those perverted gay-infested cinemas in Manila smells better than this?

Last January 1, we've watched Enteng Kabisote's sequel and the ticket prices are P29 more than 2004's prices. Not a surprise since the cinemas got some facelift earlier in 2005. Snacks and drinks should be bought the the Cinema's entrance. No more cockroaches. No more smelly urines. But what the hell is wrong with the movie's audio? It's too loud and sometimes too faint. The projector also seems to be the projector being used 30000 yrs ago when SM North first opened... IT'S TOO BLURRED!

Yes piracy is bad... but it seems that these "original" are more of a ripoff than these pirated goods. Pirated DVD's sell for P50-P80 each and those are far better than the original movie experience. Heck, even early releases of movies are better than watching them on theatres swarming with blabby-loud-mouthed-kids.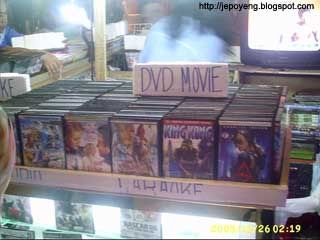 How can you stop piracy if a well respected Filipino movie director admits of buying pirated DVD movies? He said that it's his window to the world of quality movies. praktikal nga naman diba? The image above is taken at Star City last December 25. If the government is really serious in putting an end to this, pirated DVD's should be sold like illegal drugs (underground), but in this case, the're everywhere.

Don't tell me that you don't buy pirated discs. Almost, if not all, buy pirated movies here. Even rich people. You can see them everywhere. DVD movies, PlayStation 2 games, Nintendo cartridges, etc.

I wonder if they'll make pirated 3G cellphones...

*Computer end log*

Posted by Jepoy @ 1/05/2006 11:54:00 PM
Post a comment! | Email This Story!
4 comments | | View blog reactions
Love my blog? Then subscribe by entering your email address below. You will receive blog updates directly to your inbox.